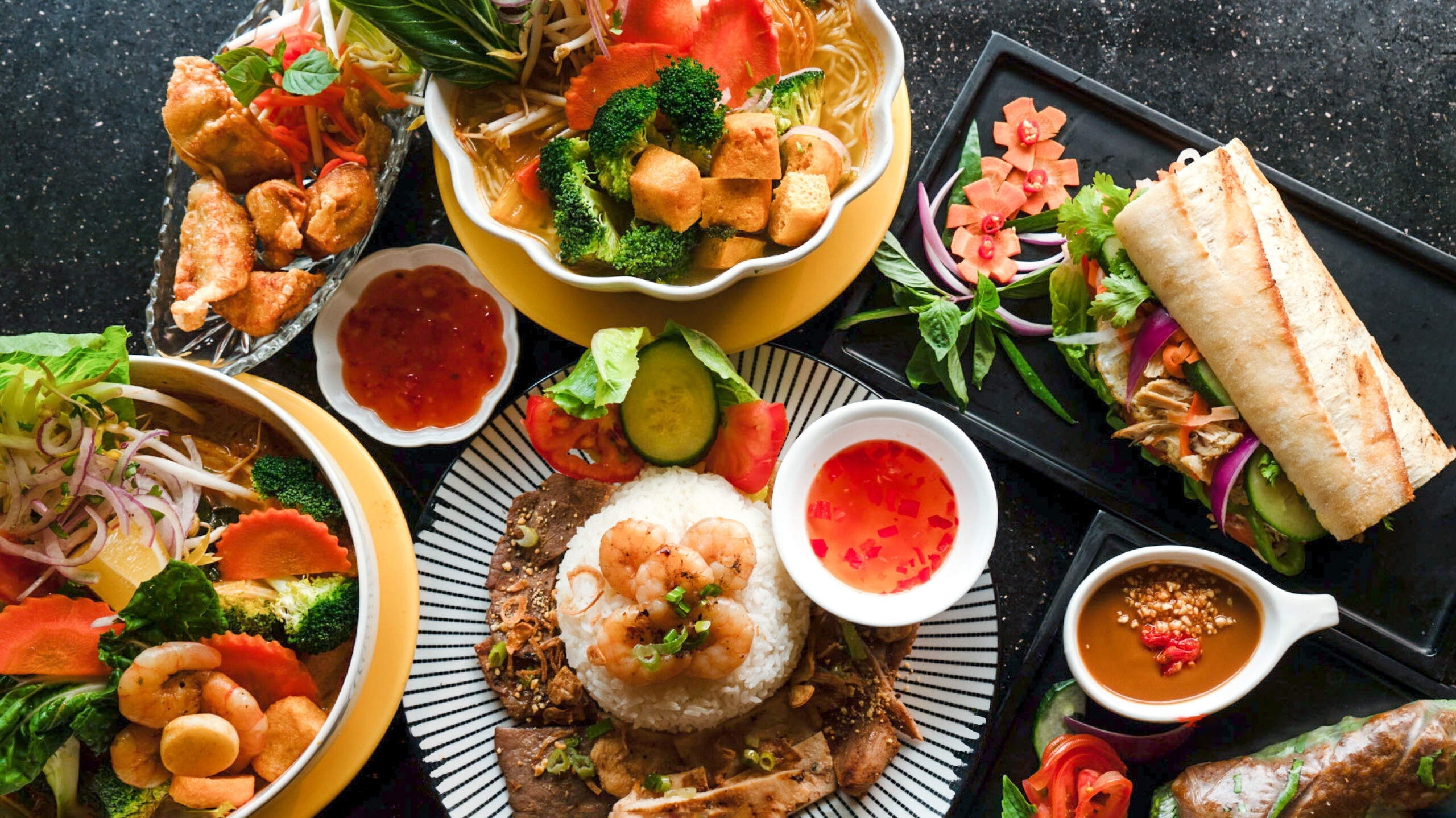 Best CATERING Service IN Ottawa – Pho by Night
An Overview of Pho By Night
Pho By Night isn't just another eatery in Ottawa; it's a culinary testament to authentic Vietnamese cuisine. Nestled in the vibrant heart of the city, this restaurant has become synonymous with fresh, flavorful, and authentically prepared Vietnamese dishes. With every bowl and plate, there's a story of tradition and modern culinary artistry being told.
The Taste that Defines Ottawa's Events
When it comes to catering, Pho By Night takes its gastronomic expertise beyond its restaurant doors, right to your event tables. Be it the tangy zest of our rolls, the heartwarming warmth of our pho, or the refreshing sips of our beverages, Pho By Night is not just about serving food—it's about creating memorable experiences. For every host keen on leaving a lasting impression on their guests, our catering service stands out as the flavor that defines events in Ottawa.
Location and Accessibility
Situated at the Heart of Ottawa: 309 Dalhousie St
Conveniently positioned at 309 Dalhousie St, Pho By Night enjoys a prime location that makes it a well-known landmark among locals and visitors alike. This central spot, pulsating with the rhythm of Ottawa's urban life, offers easy accessibility to patrons and ensures that they are always close to an authentic Vietnamese culinary experience.
Easy-to-Reach for All Occasions
Whether planning a visit for a casual dine-in experience or coordinating delivery logistics for a grand event, Pho By Night's central location ensures seamless commutes. With ample parking options in the vicinity and proximity to major transit routes, the restaurant's strategic location means your catered meals are just a stone's throw away, making it a hassle-free choice for all occasions.
Why Choose Pho By Night for Catering?
Authentic Vietnamese Flavors
At the heart of Pho By Night's success lies its unwavering commitment to the traditions and tastes of Vietnam. Every dish prepared is a celebration of authentic Vietnamese flavors, melded with high-quality ingredients to bring forth a dining experience like no other. When you choose our catering service, you're not just opting for food; you're introducing your guests to the rich tapestry of Vietnamese culinary arts.
Versatile Menu for Every Guest
Diversity is the spice of life, and Pho By Night's menu exemplifies this ethos. Whether your guest list comprises ardent meat-lovers, vegetarians, or those with specific dietary preferences, our extensive menu ensures that there's something delectable for everyone. From hearty meat dishes to delicate vegetarian offerings, our chefs craft each dish with the same passion and precision.
Commitment to Health and Wellness
Beyond taste and tradition, Pho By Night emphasizes the wellness of its patrons. Our cooking refrains from using MSG, ensuring that each bite is as healthful as it is flavorful. Furthermore, we take pride in accommodating dietary needs, be they gluten-free or other specific requirements. Choosing our catering service is a testament to caring for your guests' health and offering them a gastronomic experience that's both delightful and nourishing.
Specialties Worth Trying
Dive into Authentic Rolls
Nothing captures the essence of Vietnamese cuisine quite like our authentic rolls. Crafted with precision, each roll envelops a symphony of flavors and textures. Fresh ingredients, from succulent meats to crisp vegetables, are snugly wrapped and served with specially curated dipping sauces. They are not just appetizers; they're a journey through the streets of Vietnam, offering a sensory experience that is both familiar and refreshingly new.
The Art of Custom Vermicelli Bowls
Pho By Night introduces its patrons to the delicate art of custom Vermicelli bowls. Every bowl is a canvas where diners can craft their masterpiece by choosing from an array of toppings, meats, and condiments. The result? A bowl that's reflective of individual tastes yet deeply rooted in Vietnamese culinary traditions. It's not just a meal; it's a personalized culinary adventure waiting to be savored.
Banh mi: A Vietnamese Delight
The Banh mi is a testament to the perfect marriage of Vietnamese flavors with colonial influences. At Pho By Night, each Banh mi is a delicacy, featuring a crusty baguette filled with an assortment of meats, pickled vegetables, and sauces. Every bite is a harmonious play of textures and flavors, making it an indispensable part of our offering.
Refreshing Beverages to Complement Your Meal
A dining experience is incomplete without the perfect drink to accompany it. Pho By Night offers a curated selection of beverages that resonate with the vibrancy of Vietnamese culture. From traditional teas to modern concoctions, each beverage is crafted to complement our dishes, rounding off a meal that tingles and satisfies every taste bud.
Dietary Accommodations
Satisfy Every Palate with Vegetarian Options
In the vibrant tapestry of Vietnamese cuisine, vegetables play a starring role, and at Pho By Night, we have seamlessly integrated this ethos into our menu. Understanding the diverse dietary preferences of our patrons, we offer a rich selection of vegetarian dishes that don't compromise on flavor or authenticity. Each vegetarian dish, from appetizers to mains, is crafted with the same dedication, ensuring that even the most discerning vegetarian palate is left satiated and delighted.
Gluten-Free Choices for the Health-Conscious
In today's world, dietary needs and health considerations are paramount. Recognizing the needs of our gluten-sensitive patrons, Pho By Night has meticulously curated a range of gluten-free options. These dishes, while free of gluten, are rich in flavor and authenticity, ensuring that every guest, irrespective of their dietary restrictions, can fully partake in the Vietnamese culinary experience we offer.
Our Assurance: No MSG Used
The health and well-being of our guests are at the forefront of what we do. In our commitment to offering pure, unadulterated flavors, we take pride in proclaiming that no MSG is used in our cooking. This decision underscores our dedication to natural, wholesome ingredients that shine on their own merit, allowing our guests to indulge in our dishes with absolute peace of mind. With Pho By Night's catering, it's not just about satiating hunger; it's about serving wellness on a plate.
Catering for Various Events
Birthdays: Making it Memorable
Every birthday is a celebration of life and memories, and at Pho By Night, we understand the gravity of these moments. Our catering service for birthdays is tailor-made to suit the individual tastes and preferences of the celebrant. From kid-friendly dishes to sophisticated adult palates, we ensure that our menu adds a touch of Vietnamese flair to make the day truly unforgettable.
Corporate Meetings: Impress Your Colleagues
In the world of business, a well-fed team is a happy and productive one. Pho By Night steps in to elevate your corporate meetings with a culinary spread that is both impressive and delectable. Our dishes, crafted to perfection, ensure that your colleagues and business associates are treated to a gastronomic experience that fosters positivity, collaboration, and creativity.
Family Reunions: Bring Everyone Together with Taste
There's nothing quite like the joy of a family reunion. As laughter and stories fill the air, Pho By Night ensures that the dining table becomes a centerpiece of memories. Our catering service for family gatherings is expansive, accommodating the tastes of every family member, from the youngest to the eldest. With dishes that resonate with warmth and tradition, we help make your family time even more special.
Weddings: A Feast Worthy of Your Big Day
Your wedding day is a testament to love and togetherness, and every aspect of it should be perfect, including the food. At Pho By Night, we pull out all the stops to ensure that your wedding feast is nothing short of spectacular. With a menu that can be customized to fit your theme and preferences, and dishes prepared with utmost care and love, we make sure that your special day is complemented by a dining experience that's equally exceptional.
Delivery Services
Prompt and Reliable Delivery
At Pho By Night, we recognize that the success of an event often hinges on timing. That's why our delivery services are designed to be both prompt and reliable. Utilizing an efficient logistics system, we ensure that your catered dishes arrive at their destination fresh, warm, and on time. Our dedicated delivery personnel are trained to handle the food with utmost care, ensuring that it reaches you in impeccable condition, ready to be savored by eager guests.
Ensuring Freshness Upon Arrival
Beyond just timely delivery, Pho By Night prioritizes the freshness and quality of the food that arrives at your doorstep. Our packaging is specially designed to retain the warmth and aroma of the dishes, ensuring that they are as delightful upon arrival as they were when freshly prepared in our kitchens. With our specialized containers and careful transportation methods, every bite you take will be a testament to our commitment to excellence, no matter where you choose to dine.
Making Your Event Shine
Elevate the Ambience with Gourmet Cuisine
The food at any event isn't just sustenance; it's an integral part of the ambience and experience. With Pho By Night's gourmet Vietnamese offerings, you have the unique opportunity to elevate the overall atmosphere of your event. Our dishes, artistically presented and bursting with authentic flavors, become conversation starters, leaving an indelible mark on your guests' palates and memories.
Tailored Menus for a Unique Touch
Every event is unique, with its own theme, vibe, and audience. Recognizing this, Pho By Night offers the flexibility of tailored menus. By collaborating closely with you, we curate a menu that complements your event's essence. Whether you're looking for a traditional Vietnamese spread, a fusion menu, or a blend of both, our chefs are adept at crafting a culinary experience that aligns seamlessly with your vision.
Professional Staff Ready to Assist
A smooth event goes beyond just delectable food; it's about the entire dining experience. To ensure your event runs without a hitch, Pho By Night extends the services of our professional staff. From setting up buffet stations to attending to your guests' culinary needs, our team ensures that every aspect of the dining segment of your event is handled with precision and grace. With us by your side, you can truly relax and relish the joy of your event, knowing that your guests are in capable hands.
Summary
Authentic Vietnamese Experience
At its core, Pho By Night represents the richness of Vietnamese culinary traditions. Every dish, every flavor, is a testimony to the love and respect we have for the art of Vietnamese cooking. From the bustling streets of Hanoi to the serene landscapes of the Mekong, our food encapsulates the essence of Vietnam in every bite.
Catering Beyond Expectations
Pho By Night isn't just a restaurant; it's a promise to elevate your events with unparalleled culinary experiences. Our comprehensive catering services, adaptable to any occasion, guarantee that your events, from intimate gatherings to grand celebrations, resonate with the charm of authentic Vietnamese cuisine. With a focus on health, customization, and authenticity, our catering services are tailored to make your event truly shine.
A Commitment to Excellence
At Pho By Night, excellence isn't just a buzzword; it's our mantra. From sourcing the finest ingredients to crafting dishes with precision, from timely deliveries to impeccable service at events, our commitment to excellence is unwavering. When you choose Pho By Night for your catering needs, you're choosing a partner dedicated to making your event memorable, delicious, and truly extraordinary.