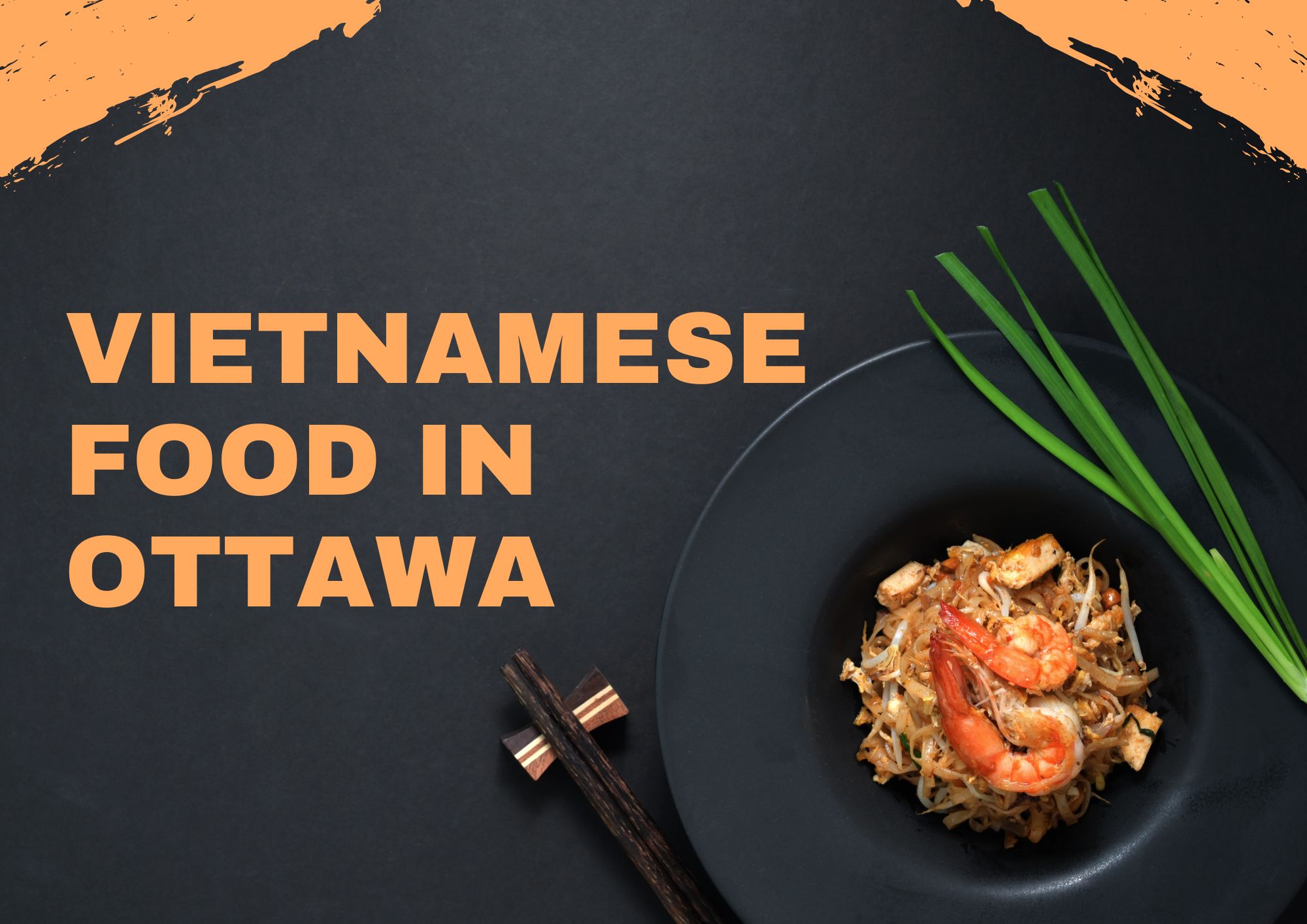 Vietnamese Food in Ottawa to Eat
The Rise of Vietnamese Cuisine in Ottawa
Vietnamese cuisine, with its intricate flavors and diverse offerings, has found a special place in the culinary tapestry of Ottawa. Over the past few years, the city's inhabitants have developed a profound appreciation for this Southeast Asian cuisine, owing to its perfect balance of herbs, spices, and fresh ingredients. Its health-conscious preparation methods and distinctive tastes have resonated with the palates of Ottawans, marking a notable rise in the popularity of Vietnamese eateries across the city.
A Glimpse into "Pho By Night" at 309 Dalhousie St, Ottawa
Nestled in the heart of Ottawa at 309 Dalhousie St, "Pho By Night" stands as a beacon for authentic Vietnamese food. Its rich menu, ranging from traditional Pho to delightful appetizers, captures the essence of Vietnam in every dish. With a commitment to quality and authenticity, this restaurant has quickly risen to become a favored Vietnamese dining spot in Ottawa, offering residents and visitors alike a genuine taste of Vietnam's culinary treasures.
Setting the Scene: Vietnamese Food Culture
The Essence of Vietnamese Cooking
Vietnamese cooking is a delicate art, woven intricately with history, tradition, and a profound understanding of ingredients. Central to its philosophy is the principle of yin and yang; ensuring balance and harmony in flavors and textures.
Each dish is crafted to evoke a sense of place, often reflecting the landscape and climate of its origin. Rice paddies, freshwater fish, and lush herb gardens are emblematic of the nation, and these elements are beautifully echoed in its cuisine. Freshness is paramount, with many dishes showcasing raw or lightly cooked vegetables and herbs, ensuring a burst of flavor and vitality with every bite.
The Popularity Surge in Canada
Canada, with its mosaic of cultures and flavors, has always been open to global cuisines. But the recent surge in the popularity of Vietnamese food speaks to more than just a culinary trend. The clean, healthful properties of Vietnamese dishes, combined with their aromatic and tantalizing flavors, have made them a hit among health-conscious Canadians.
Moreover, the interactive nature of many Vietnamese meals – wrapping spring rolls, assembling your toppings on a Banh Mi, or customizing your Pho with herbs and sprouts – provides a novel dining experience. It's not just about eating; it's about engaging with your food, making the rise of Vietnamese cuisine in Canada a confluence of taste, health, and interactive enjoyment.
List of Vietnamese Food in Ottawa by Pho By Night
| | |
| --- | --- |
| Category | Dishes |
| Appetizers | CRISPY SPRING ROLLS WITH FISH SAUCE |
| | FRESH SHRIMP SUMMER ROLLS WITH PEANUT SAUCE |
| | FRESH VEGETARIAN SUMMER ROLLS WITH PEANUT SAUCE |
| | VEGETARIAN SPRING ROLLS WITH SWEET CHILI SAUCE |
| | CRISPY WONTONS WITH SWEET CHILI SAUCE |
| | SPICY PORK WINTER ROLLS WITH PEANUT SAUCE |
| Famous Pho Noodle Soup | CHICKEN PHO |
| | SPICY PHO |
| | FAMOUS VEGETARIAN PHO |
| | RARE SIRLOIN PHO |
| | SEAFOOD PHO IN TOM YUM GOONG SOUP |
| | VEGETARIAN PHO IN TOM YUM GOONG SOUP |
| Banh Mi | BANH MI |
| Vermicelli Dishes | VERMICELLI WITH VEGETARIAN SPRING ROLLS |
| | VERMICELLI WITH GRILLED PROTEINS |
| Pho By Night Specials | GRILLED PORK WITH FRIED EGG ON STEAMED JASMINE RICE |
| | STIRRED FRIED YELLOW CHICKEN CURRY ON STEAMED JASMINE RICE |
| | GRILLED BEEF, CHICKEN, PORK AND SHRIMP ON STEAMED JASMINE RICE |
| | SEAFOOD PAD THAI |
| | VEGETARIAN PAD THAI |
| | FRIED TOFU AND TOMATO SAUCE ON STEAMED JASMINE RICE |
Starting Off: The Alluring Appetizers
Spring Rolls: A Bite of Vietnam
The spring roll, often considered the poster child of Vietnamese appetizers, is a delightful introduction to the nation's culinary prowess. At "Pho By Night", two variants beckon. CRISPY SPRING ROLLS WITH FISH SAUCE promise a crunchy exterior, encasing a flavorful filling, which when dipped in the tangy fish sauce, brings forth an explosion of tastes.
On the other hand, the VEGETARIAN SPRING ROLLS WITH SWEET CHILI SAUCE offer a lighter alternative. These rolls, packed with fresh vegetables and vermicelli, coupled with the mildly spicy and sweet chili sauce, offer a vegetarian treat that's hard to resist.
Summer and Winter Rolls: Seasonal Delights
Vietnam's diverse climate and agricultural richness manifest splendidly in its seasonal rolls. The FRESH SHRIMP SUMMER ROLLS WITH PEANUT SAUCE are a testament to the coastal bounty, encased in translucent rice paper, revealing fresh shrimp, herbs, and rice noodles. The peanut sauce accompanying it adds a creamy, nutty depth, making every bite a symphony of textures and flavors.
Not to be outdone, the FRESH VEGETARIAN SUMMER ROLLS WITH PEANUT SAUCE provide an equally refreshing bite, showcasing the vibrancy of Vietnam's vegetable produce. As the weather turns cooler, the SPICY PORK WINTER ROLLS WITH PEANUT SAUCE emerge as a favorite, with a rich filling that contrasts beautifully with its mild exterior.
Moreish Munchies
Beyond the rolls, there's a world of tantalizing starters waiting to be explored. CRISPY WONTONS WITH SWEET CHILI SAUCE stand out, offering golden, deep-fried pockets bursting with a savory filling. The sweet chili sauce, with its hint of spice, complements the wontons perfectly, making them an irresistible start to any meal at "Pho By Night".
A Dive into the Famous Pho Noodle Soup
CHICKEN PHO: Simplicity at Its Best
When one thinks of Vietnamese cuisine, Pho often stands out as the iconic representative. The chicken Pho, in particular, embodies the simplicity and depth of flavors inherent to Vietnamese cooking. Delicate rice noodles swim in a clear, aromatic broth, simmered for hours to extract the essence of chicken and a medley of traditional herbs and spices.
Tender slices of chicken complement the soft noodles, and a side of fresh bean sprouts, lime wedges, and herbs allows diners to customize their bowl to perfection.
SPICY PHO: For Those Who Love the Heat
For those who desire a bit more kick in their bowl, the spicy Pho at "Pho By Night" is a revelation. It marries the foundational elements of traditional Pho with the fiery zest of chili oil, creating a harmonious blend of warmth, depth, and spiciness. Each sip invigorates the senses, making it a favored choice for those seeking a blend of comfort and excitement in their meal.
RARE SIRLOIN PHO: A Meat Lover's Dream
Meat aficionados will find solace in the rich and flavorful bowl of rare sirloin Pho. Thin slices of sirloin, introduced to the steaming hot broth, cook to a perfect medium rare. The result is a luxurious texture contrast between the melt-in-mouth meat and the soft rice noodles, making each bite a delectable experience.
FAMOUS VEGETARIAN PHO: Who Said Veg Can't Be Delicious?
Breaking the myth that Pho is solely a meat-lover's domain, the vegetarian Pho at "Pho By Night" stands tall with its robust flavors and hearty ingredients. Tofu, mushrooms, and an assortment of fresh veggies bring substance to the clear, flavorful broth, ensuring that even those who prefer plant-based diets can indulge in the magic of Pho.
SEAFOOD PHO IN TOM YUM GOONG SOUP: A Fusion Adventure
In an innovative twist, "Pho By Night" offers a fusion experience, combining the Vietnamese Pho with the famous Thai Tom Yum Goong soup. The result is a bowl that's both tangy and spicy, filled with succulent pieces of seafood. It's a refreshing take on the classic, catering to those with an adventurous palate.
VEGETARIAN PHO IN TOM YUM GOONG SOUP: Flavors That Dance
Not to leave vegetarians behind in this fusion journey, a vegetarian version with the tangy Tom Yum broth is also on the menu. Rich in vegetables and tofu, this dish offers a dance of flavors, ensuring that everyone, regardless of dietary preferences, can experience the innovative culinary offerings of "Pho By Night".
Banh Mi: The Vietnamese Sandwich Wonder
The Legacy of Banh Mi: A Fusion Born from History
The Banh Mi is not just a sandwich; it's a reflection of Vietnam's historical tapestry. Originating from the French colonial influence in Vietnam, the Banh Mi combines the French baguette with distinctly Vietnamese ingredients. It's a culinary symbol of East meets West, embodying the country's resilience, adaptability, and flair for creating something uniquely its own from foreign influences.
Constructing the Perfect Banh Mi
At the heart of every Banh Mi is its bread—a crusty exterior that gives way to a soft, airy interior. But what truly makes a Banh Mi stand out are its fillings. Layers of proteins like grilled pork or chicken are complemented by pickled vegetables, fresh cilantro, and fiery chili slices.
The sandwich is often finished with a smear of pâté and mayonnaise, adding richness and depth. The result is a symphony of textures and flavors—crunchy, tangy, spicy, and umami—all in one bite.
"Pho By Night's" Signature Banh Mi
At "Pho By Night", the Banh Mi is crafted with meticulous attention to detail. Each ingredient is curated for maximum freshness and flavor. The proteins are marinated and grilled to perfection, the vegetables are pickled in-house to ensure the right balance of sweet and tangy, and the bread is always delivered crisp and fresh. It's a sandwich that encapsulates the essence of Vietnamese culinary expertise, offered right in the heart of Ottawa.
Vermicelli Dishes: A Light and Flavorful Treat
Vermicelli: Vietnam's Culinary Gem
Vermicelli, thin rice noodles, is one of the staples in Vietnamese cuisine. Unlike the heavier wheat-based noodles of other Asian cuisines, rice vermicelli is light, slightly chewy, and serves as a wonderful canvas for a variety of flavors. Its adaptability makes it a key component in numerous dishes, celebrated for both its texture and ability to soak up the rich flavors it's often paired with.
A Dance of Ingredients on a Plate
One of the hallmarks of Vietnamese vermicelli dishes is the harmonious layering of ingredients. Typically served cool, a plate of vermicelli is adorned with a plethora of components: fresh herbs like mint and basil, crisp salad greens, bean sprouts, and often, a protein like grilled pork or fried spring rolls. This medley is then often drizzled with a tangy, sweet, and savory fish sauce dressing, resulting in a dish that is refreshing yet deeply satisfying.
"Pho By Night's" Vermicelli Offerings
At "Pho By Night", vermicelli dishes are a testament to the restaurant's commitment to authenticity. The VERMICELLI WITH VEGETARIAN SPRING ROLLS provides a delightful contrast between the crispy spring rolls and the soft vermicelli noodles, all united under a drizzle of savory sauce. Meanwhile, the VERMICELLI WITH GRILLED PROTEINS showcases the restaurant's grilling expertise.
Whether it's succulent pieces of chicken, beef, or pork, each bite promises a burst of smoky, savory goodness that complements the delicate vermicelli perfectly. It's a meal that embodies the lightness and depth of Vietnamese cuisine, a true delight for anyone seeking a wholesome yet flavorful dish.
The "Pho By Night" Specialties
Grilled Meats: A Culinary Art Form
One cannot discuss Vietnamese cuisine without delving into the world of grilled meats. There's an art to achieving that perfect char, that smoky aroma, and that tender juiciness. At "Pho By Night", the GRILLED PORK WITH FRIED EGG ON STEAMED JASMINE RICE epitomizes this expertise.
The savory slices of grilled pork, coupled with the richness of a perfectly fried egg, sit atop fragrant steamed jasmine rice, creating a dish that's both hearty and comforting.
Stir-Fried Delights: Bursting with Flavor
Stir-frying, a technique that harnesses high heat to sear and flavor ingredients quickly, is a staple in many Asian cuisines, and Vietnamese cooking is no exception. The STIRRED FRIED YELLOW CHICKEN CURRY ON STEAMED JASMINE RICE is a shining example. Tender pieces of chicken, marinated and cooked with a fragrant yellow curry sauce, are presented on a bed of fluffy jasmine rice. Each bite promises a fusion of spicy, creamy, and savory flavors.
The Ultimate Platter: A Feast for the Senses
For those looking to indulge in a variety of flavors and textures, the GRILLED BEEF, CHICKEN, PORK AND SHRIMP ON STEAMED JASMINE RICE is a must-try. It's a platter that celebrates the richness of Vietnamese grilling traditions, offering diners a chance to sample a bit of everything. The succulent shrimp, the smoky beef, the juicy chicken, and the savory pork combine to create a gastronomic adventure, ensuring that every palate is catered to.
Pad Thai: A Nod to the Neighbors
Though originating from Thailand, Pad Thai has found its way into the hearts and plates of many around the world, including Vietnam. "Pho By Night" offers its own versions: the SEAFOOD PAD THAI and VEGETARIAN PAD THAI. These dishes capture the essence of the classic – stir-fried rice noodles tossed with a blend of sweet, sour, and savory sauces, garnished with peanuts and fresh lime. Whether you're in the mood for an assortment of seafood or a hearty vegetarian option, these dishes promise a flavorful escape.
Tofu in Tomato Sauce: A Vegetarian's Delight
In Vietnamese cooking, vegetarian dishes are crafted with as much care and flavor as their meat counterparts. The FRIED TOFU AND TOMATO SAUCE ON STEAMED JASMINE RICE is a testament to this. Crispy, golden cubes of tofu are bathed in a tangy tomato sauce, offering a delightful contrast in textures and flavors. Paired with the aromatic jasmine rice, it's a dish that even meat-lovers would find hard to resist.
Conclusion
The Vietnamese culinary landscape is a tapestry of flavors, techniques, and traditions, each dish telling a story of its origins, cultural influences, and the artisans behind its creation. "Pho By Night" in Ottawa stands as a testament to this rich heritage, offering locals and visitors alike an authentic taste of Vietnam, from the fragrant broths of Pho to the crispy delights of spring rolls.
But it's not just about the food. It's about the experience — the warmth of Vietnamese hospitality, the sound of sizzling meats, the aroma of fresh herbs, and the visual feast of colorful dishes laid out on the table. Every meal at "Pho By Night" is a journey, one that takes you through the bustling streets of Hanoi or the serene landscapes of the Mekong Delta, all without leaving the heart of Ottawa.
In a city that boasts a myriad of international cuisines, Vietnamese food, especially as presented by "Pho By Night", holds its own, offering a blend of comfort, flavor, and innovation. Whether you're a long-time lover of Vietnamese cuisine or a curious first-timer, "Pho By Night" promises an experience that's both familiar and novel, comforting and exciting, and above all, deeply satisfying.
So, the next time you find yourself wandering the streets of Ottawa, let the tantalizing aromas of "Pho By Night" guide you, and embark on a culinary adventure that will linger in your memories long after the last bite.
What is the origin of Pho?
Pho is a beloved noodle soup that traces its origins back to Northern Vietnam, near Hanoi. While the exact history is a subject of debate, it's widely believed that Pho evolved from local and French influences during the colonial period. Today, it's a national dish enjoyed by millions, with regional variations in broth, spices, and toppings.
How does "Pho By Night" ensure the authenticity of its dishes?
"Pho By Night" takes pride in preserving the rich culinary traditions of Vietnam. The chefs are trained in traditional cooking techniques, and the restaurant sources the freshest ingredients, some of which are imported directly from Vietnam. Additionally, recipes are often passed down through generations, ensuring that what you taste is as authentic as it gets.
Are there vegetarian options available at "Pho By Night"?
Absolutely! "Pho By Night" recognizes the diverse preferences of its customers and offers a range of vegetarian dishes. From the FAMOUS VEGETARIAN PHO to the VEGETARIAN PAD THAI and FRIED TOFU AND TOMATO SAUCE ON STEAMED JASMINE RICE, there's something to satisfy every palate.