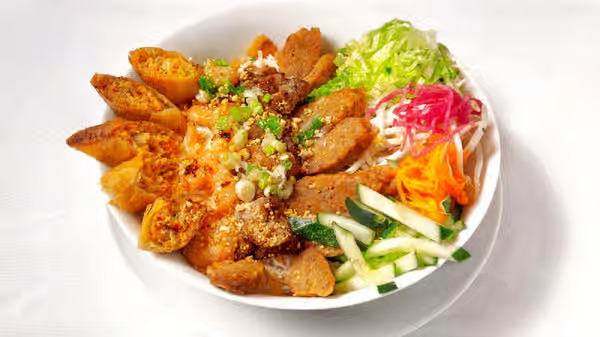 Customized Vermicelli Bowl in Ottawa
Situated in the vibrant heartbeat of Byward Market at 309 Dalhousie, Ottawa, Pho By Night stands as a testament to authentic Vietnamese delights. Our space isn't just a dining venue; it's a canvas for your gastronomic creativity.
Dive into our menu and you'll find the pinnacle of personalization: the vermicelli bowl options. Imagine a dish where you're the maestro, choosing from a palette of ingredients like Lemon Grass Tofu, grilled lemon grass pork, or vegetarian spring rolls.
Our vermicelli bowl menu is crafted to let you build your vermicelli bowl, ensuring every spoonful is a reflection of your unique taste. It's more than a meal; it's an invitation to explore Vietnam's rich culinary tapestry, one personalized vermicelli dish at a time. At Pho By Night, we bring the tradition, you bring the twist.
Our Legacy
The Nighttime Noodle Narratives
Pho By Night was born out of a vision by two brothers, MK and Tony, to cater to the vibrant night crowd of Byward Market. The very essence of our brand, tucked away at 309 Dalhousie, Ottawa, revolves around bringing Vietnam's rich culinary heritage to those who seek a late-night gastronomic experience.
With vermicelli bowl specialties that stand testament to our dedication to authenticity, we've etched a niche for ourselves among patrons who relish the ability to create their own vermicelli bowl.
From our carefully chosen vermicelli bowl ingredients to the curated combinations, every aspect reflects a journey that began with a family's passion for Vietnamese cuisine and a commitment to serve the community beyond traditional hours. As the sun sets and Ottawa's streets come alive, Pho By Night emerges as a beacon for customizable vermicelli delights.
The Art of Customization
Crafting Your Culinary Canvas
At Pho By Night, we believe that every meal should resonate with your unique tastes and preferences. Our vermicelli bowl menu offers just that—a personalized dining experience. Delve into the myriad of choices we present and you'll understand the true essence of customization.
Whether you're inclined towards the aromatic Lemon Grass Tofu or the savory grilled lemon grass chicken, every vermicelli bowl ingredient is a testament to our commitment to quality and flavor. But it's not just about the ingredients; it's about the joy of creating your vermicelli bowl combinations.
The pleasure of handpicking each element, from toppings to accompaniments, ensures that each bite is a culmination of your culinary vision. At Pho By Night, we provide the palette; you paint the masterpiece.
Tofu Treat
A Symphony of Flavors in Every Bite
For those who lean towards plant-based delicacies, our Lemon Grass Tofu emerges as the crown jewel in our vermicelli bowl options. Skillfully marinated and impeccably cooked, this tofu isn't just an ingredient; it's a celebration of Vietnamese culinary artistry. Each morsel dances with vibrant flavors, promising an unparalleled vermicelli bowl experience.
Whether you're looking to craft a completely vegetarian vermicelli bowl or simply wish to enhance your dish with a protein-packed addition, our Lemon Grass Tofu seamlessly fits the bill. At Pho By Night, we believe in embracing diverse palates, and with this tofu treat, we ensure that our vegetarian patrons enjoy a flavorful voyage just as delightful as any other.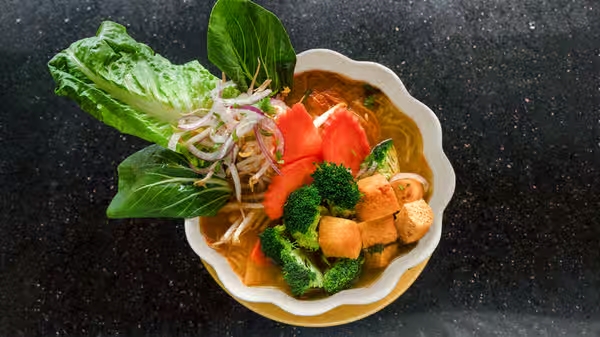 Dive into the art of crafting your personalized vermicelli dish, and let our tofu be the flavorful note that sings on your palate.
Roll it Right
Crunchy Companions to Your Bowl
A meal at Pho By Night isn't just about the main ingredients; it's about the accompaniments that elevate the entire experience. Among our vermicelli bowl add-ons, our vegetarian spring rolls have become a beloved choice. Crispy on the outside with a flavorful filling, these rolls promise a delightful crunch in every bite, making them an ideal topping for your personalized vermicelli dish.
Whether served as a side or integrated into your vermicelli bowl combinations, these spring rolls encapsulate the textures and tastes of Vietnam.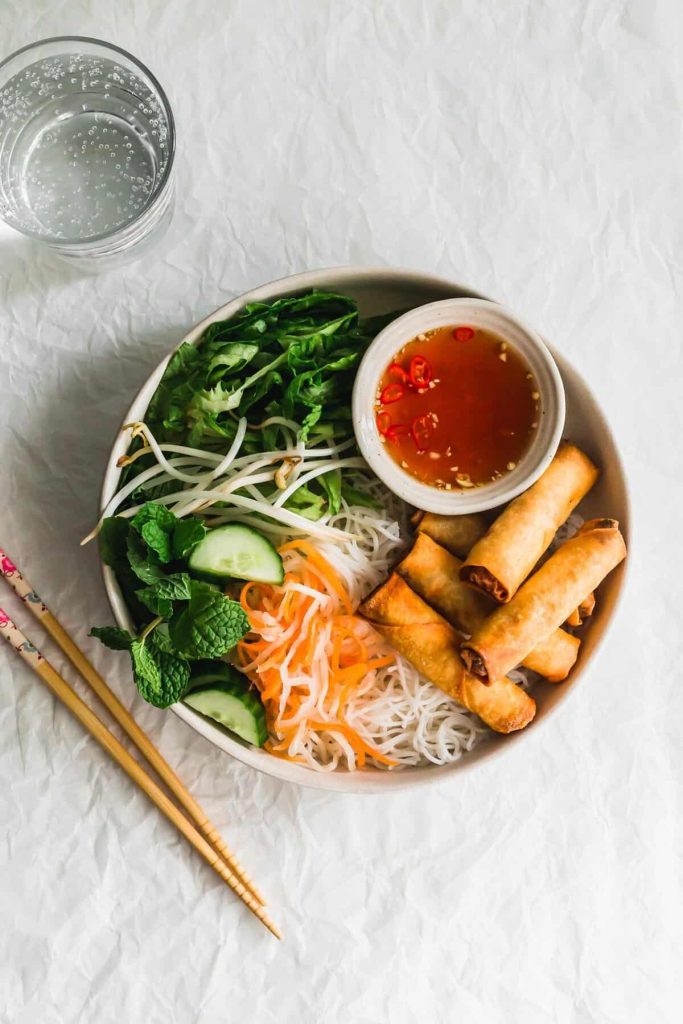 They serve as a testament to the careful balance we strike between tradition and innovation, ensuring that even the accompaniments to your meal are nothing short of extraordinary. When crafting your vermicelli masterpiece at Pho By Night, don't forget to roll it right with these crunchy delights.
Meat Lovers' Choices
Succulent Selections for the Savory Soul
Dive into the robust world of flavors with our meat-based vermicelli bowl options at Pho By Night. From the smoky notes of our grilled lemon grass pork to the tender succulence of our lemon grass chicken and beef, our menu is a veritable feast for carnivores.
Crafting your own vermicelli bowl becomes a journey of discovery as you explore these protein-rich delicacies, each meticulously marinated and grilled to perfection. Our commitment to authenticity and quality ensures that these meaty toppings don't just complement your bowl, but become the star attractions of your personalized vermicelli dish.
Whether you're a purist preferring a single meat choice or an adventurer looking to combine multiple, Pho By Night's meat selections promise a symphony of flavors, making every bite a testament to Vietnam's rich culinary heritage.
Freshness First
The Vibrant Canvas of Our Dishes
At Pho By Night, the essence of our vermicelli bowl specialties is rooted deeply in the freshness of our ingredients. We meticulously handpick the freshest vegetables, ensuring they stand not just as accompaniments, but integral parts of your personalized vermicelli dish.
These vibrant veggies, bursting with natural flavors, serve as the perfect companion to traditional ingredients, be it tofu, meat, or spring rolls. When you build your vermicelli bowl with us, you're not just crafting a meal, but an experience—a harmony of taste and health, where each bite showcases the crunch, color, and freshness of nature's best.
As you navigate through our vermicelli bowl options, remember: Pho By Night's commitment to freshness ensures that every choice is not just delicious but also wholesomely invigorating.
Vermicelli Bowl Variations
Crafting a Culinary Tapestry, One Bowl at a Time
Our diverse vermicelli bowl menu at Pho By Night is an ode to the limitless possibilities of Vietnamese cuisine. Each ingredient, from our aromatic Lemon Grass Tofu to our juicy grilled meats, opens up avenues for different vermicelli bowl combinations.
While some patrons may lean towards a classic assembly, others take joy in exploring vermicelli bowl add-ons, crafting a dish that mirrors their culinary mood of the moment. The beauty lies in the interplay of textures, flavors, and aromas that each variant offers.
It's not merely about filling a bowl, but about weaving a narrative of taste, tradition, and personal touch. As you navigate our offerings, remember: every vermicelli bowl variation is an invitation from Pho By Night to create, customize, and cherish a dining experience like no other.
Catering Made Delicious
Serving Authenticity at Your Doorstep
Beyond our physical location at 309 Dalhousie, Ottawa, Pho By Night extends its culinary expertise to elevate your special occasions with our catering services. Whether you're curating a menu for a corporate event or celebrating a personal milestone, our vermicelli bowl options are designed to impress.
Guests can indulge in crafting their own vermicelli bowl, ensuring a personalized dining experience that resonates with each individual's taste. From vegetarian delights to hearty meat choices, our catering selection embodies the essence of Vietnamese flavors. But it's not just about the food; it's about the experience.
Our commitment to quality, freshness, and authenticity ensures that every vermicelli bowl combination served is a reflection of our culinary legacy. Turn your events into gastronomic celebrations with Pho By Night's catering – where every dish is a journey through Vietnam's rich culinary landscape.
Beyond Vermicelli
A Panorama of Vietnamese Flavors
While our vermicelli bowl options remain a focal point at Pho By Night, our culinary landscape stretches far beyond. From the soul-soothing warmth of our Pho Noodle Soup to the crisp delight of our Banh Mi, every dish is a tribute to the richness of Vietnamese cuisine.
As you explore our menu, you'll encounter a plethora of flavors, each promising a unique culinary narrative. Whether you're crafting a personalized vermicelli dish or delving into our other specialties, our commitment to authenticity and freshness shines through. At 309 Dalhousie, Ottawa, we don't just serve meals; we curate experiences.
So, as you navigate through our offerings, be prepared to embark on a gastronomic voyage that stretches beyond vermicelli and dives deep into the heart of Vietnam's culinary traditions. At Pho By Night, every bite is a story waiting to be savored.
Quality Promise
Our Pledge to Culinary Excellence
At Pho By Night, every vermicelli bowl ingredient, every dish, and every flavor embodies our unwavering commitment to quality. Our dedication begins at the source, where we handpick the freshest produce and finest proteins, ensuring that they meet our stringent standards.
This quality-focused approach extends to our culinary processes, where age-old Vietnamese techniques merge with modern methods to craft dishes that sing with authenticity.
Whether you're exploring our vermicelli bowl options or savoring any of our other menu offerings, our promise remains steadfast: a dining experience free from MSG, enriched with vibrant flavors, and underpinned by our family's passion for Vietnamese cuisine. At Pho By Night, our quality promise isn't just a standard—it's the very essence of who we are and what we serve.
Visit Us Today
A Culinary Destination Awaits
Nestled in the heart of Byward Market at 309 Dalhousie, Ottawa, Pho By Night beckons all food aficionados to dive into a world where Vietnamese culinary traditions meet modern dining experiences. From crafting your own vermicelli bowl to savoring our wide array of dishes, every visit promises a gastronomic journey.
Whether you're craving the aromatic allure of our Lemon Grass Tofu or the hearty richness of our grilled meats, our menu caters to varied palates. And it's not just about the food; it's about the ambiance, the vibe, and the warmth of a family-run establishment that treasures its patrons.
As you ponder over our vermicelli bowl options and combinations, the story of Pho By Night unfolds—one of dedication, passion, and a relentless pursuit of culinary perfection. So, why wait? Step into our world today and let us serve you memories, one delicious bite at a time.
Feedback & Suggestions
Crafting Culinary Journeys Together
At Pho By Night, our patrons play a pivotal role in our ever-evolving culinary narrative. As you delve into our menu, especially the vermicelli bowl options, we remain keenly attuned to your feedback. Each suggestion, each review, serves as a stepping stone, helping us refine our offerings and enhance our dining experience.
Whether you've found a new favorite among our vermicelli bowl combinations or have an idea to add a twist to our classics, your voice matters. It's this collaborative spirit that has allowed us to grow, innovate, and consistently serve dishes that resonate with the heart and soul of Vietnam.
So, as you journey through our culinary landscape, remember: our door is always open to your insights. At Pho By Night, we're not just serving meals; we're building a community, one flavorful suggestion at a time.
Stay Updated
Tuned Into Our Culinary Chronicles
In the vibrant world of Pho By Night, there's always something brewing—be it a new addition to our vermicelli bowl menu or a seasonal special that pays homage to Vietnam's rich culinary tapestry. Staying updated with our latest offerings ensures that you never miss out on a delectable opportunity to craft your personalized vermicelli dish or explore new flavors.
Whether it's an innovative vermicelli bowl topping or a limited-time delicacy, we're constantly pushing the envelope of creativity while staying rooted in authenticity.
To ensure you're always in the loop, join our community online, follow our updates, and be the first to know what's sizzling in our kitchen. At Pho By Night, every update is a fresh chapter in our flavorful saga, and we invite you to be a part of this delectable journey.
Thank You Note
Gratitude Served Warm
As you journey through the world of Pho By Night, from crafting your unique vermicelli bowl combinations to exploring the myriad of flavors we offer, know that our heart swells with gratitude for every patron who walks through our doors.
It's not just about serving dishes; it's about sharing a piece of our family's legacy and passion for Vietnamese cuisine. Whether you're a first-timer experimenting with our vermicelli bowl options or a loyal customer who has become a part of our extended family, your trust, support, and palate have been instrumental in our journey.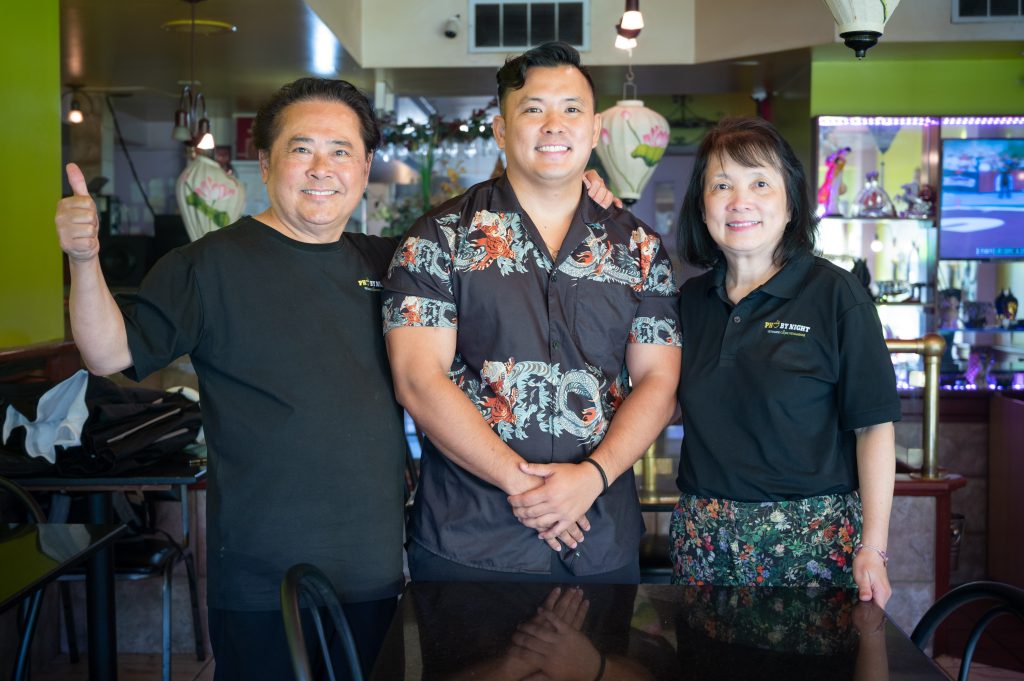 As you relish our offerings, remember that each bite is steeped in tradition, love, and an unwavering commitment to culinary excellence. From the depths of our hearts at Pho By Night, thank you for allowing us to serve, delight, and share our story with you.